About Patrick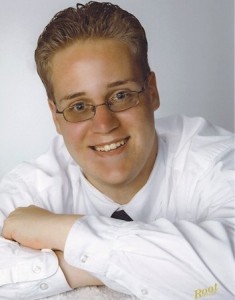 Patrick Juris had spina bifida, which can cause problems in the spinal cord and back bones and forced him to use crutches to get around. But he was an incredibly active student, both at Lincoln-Way Central and in college at UIC. For many, his actions were inspirational.
"If it wasn't for him I'm not sure I would have gotten off the bus most mornings. He made sure I knew I had friends," said Heather Lloyd, a friend from Central who has cerebral palsy and took many classes with Mr. Juris.
Lloyd said high school can be rough, especially for students with disabilties. But in Mr. Juris, she had a friend who eased the pain. She worried about going to college and being made fun of, but he encouraged her to get a degree. Now she's a sophomore at Joliet Junior College.
Mr. Juris was a peer counselor for students with disabilities, helping freshmen navigate the intimdating world of high school. And when no one would go to a school dance with Lloyd, there was Mr. Juris at her door with flowers. She remembers slipping on ice and deciding she didn't want to go to the dance, but again he sent the message that everything would be OK; they would still have fun.
"He  gave up so much to make other people happy," Lloyd said. "If his life wasn't cut  short he would have done great things with all his advocacy work."
Continuing Advocacy in College
Mr. Juris was a senior studying sociology at the University of Illinois-Chicago. He would have graduated in May and planned to continue his education to become an occupational therapist.
He was also an advocate on campus as chairman of the Student Advisory Sub-Committee for the Chancellor's Committee on the Status of Persons with Disabilities. He also started a job in August as a community outreach consultant for UIC's Disabilities Resource Center. In an October 2010 UIC news release, Mr. Juris explained why he was so involved with advocacy.
"There's definitely a lack of voice for students with disabilities,"  he said. "I can pass a student who is in a wheelchair and there is no  connection. There's a missing link of culture and activities … In general for students with disabilities, there's an advocacy need to help support them."
He stayed active on campus and through other opportunities. His father, Bob Juris, recalled a trip to Starved Rock when there was a special hunt day for people with disabilities. He was involved in Will County 4H and showed sheep projects as well as visual arts at the Will County Fair and State Fair.
Roxana Stupp, the Disabilities Resource Center director, said she offered him a job there because she was impressed with his proactive and positive attitude, as well as his efficiency. She'd ask him to do something and he'd take care of it right away.
"He always talked about that there's so much we need to do and I thought we could hardly have enough time," Stupp said. "But he became active in representing the DRC in the diversity network."
A Legacy Left Behind
There were a number of initiatives he started but won't get to finish. It was his idea to form a disabled student organization. He was working with the chancellor's committee to improve the university's policy for emergency response, which he felt didn't adequately address the disabled population. He just started a dialogue with the recreation center on campus to start providing more services for disabled students.
Mr. Juris also attended high school events to speak with prospective students and promote UIC. In some cases he talked to students with disabilities who wanted to know what services were offered. Stupp said he liked talking to students who weren't disabled, too, so he could educate them on some issues.
Doctorate student Chuck Stack, 56, worked with Mr. Juris on the chancellor's committee and said he was amazed by the work of his younger colleague.
"He was just an eternal optimist and had incredible vision for what he wanted to do," Stack said. He added that he plans to find ways to honor Mr. Juris on campus, possibly through an award in his name that could be given to a disabled student.
UIC suffered a great loss, Stack said, but Mr. Juris' advocacy work will live on in those who surrounded him as they continue to change the climate for disabled students.
"He was that inspiring," Stack said. "He showed us the way that we need to go and now it's up to (us) to follow through."
Mr. Juris was born May 30, 1989, and is survived by his parents, Bob and Diane; and one sister, Emily.
Source: http://newlenox.patch.com/articles/patrick-juris-remembered-as-friend-advocate-for-students-with-disabilities